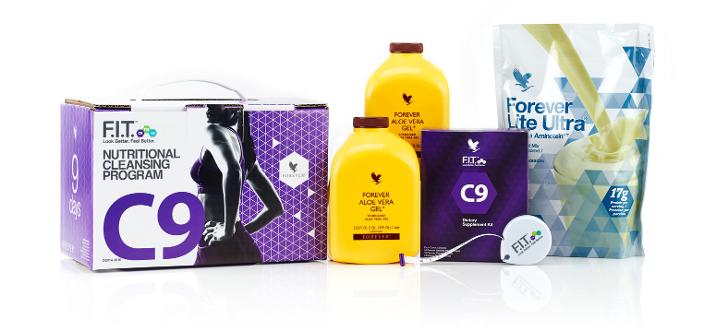 Our fitness and weight management products will help you to look and feel your best.
Whether you're looking to get in shape, adopt healthier eating habits, lose a few pounds or build muscle, Forever understands your weight management needs. Go to MY ONLINE SHOP to see the variety of products available - ranging from supplements and protein shakes to advanced nutritional, cleansing & weight management programmes.
Forever's sports and weight management products are so versatile they can cater to the needs of every individual. Whether you are a sports professional looking to supplement their diet and training regime, or simply trying to get into better shape, Forever has the nutritional support you need.
The C-9 Cleanse
This effective, easy-to-follow cleansing programme will give you the tools you need to start transforming your body today. The Clean 9 Program can help you jump start your journey to a slimmer, healthier you.
Forever Garcinia plus contains a natural appetite suppressant and temporarily inhibits the enzyme that converts calories into fat. A useful tool in weight management.
Forever Therm is a carefully created formula containing a special combination of vitamins, including B6 and B12, which contribute to the reduction of tiredness and fatigue; the vitamin C will also contribute to a normal energy yielding metabolism.
Forever Lean: These well-balanced capsules are high in chromium which contributes to both a normal macronutrient metabolism and to the maintenance of normal blood glucose levels.
Forever Fibre: Fibre is a vital part of any healthy balanced diet. This water-soluble fibre supplement provides a proprietary blend of 5g of soluble fibre that can be readily mixed with any beverage to help increase your daily intake. Helps you to feel fuller for longer.
The first two days require will-power as you only have what is provided in the pack, plus almond milk, skimmed milk or soya milk, and NO food for the 1st 2 days, however, you do have some fruit and veg from the FREE food list in your booklet. The initial 'cleanse' is as a result of drinking a small amount of pure Aloe Vera gel drink 3 times per day, which again is packed with over 78 nutrients naturally and allows the body to detoxify gently whilst cleaning your insides - promoting a healthy gut and regulating/boosting your metabolism (Aloe Vera gel for drinking (2 x 1 litre). During these first 2 days your body draws upon the stores of fat in your body for energy, thus resulting in weight-loss and inch loss.
Days 3-9 are similar to days 1+2 but with the addition of a 600 calorie meal per day (800 for men)– which is actually quite a lot for one meal, plus our nutritious shakes. You get a booklet containing lots of recipe/meal suggestions plus you can visit our website for recipes, tips and useful info.
You will also get:
- a complete guide and meal planner
- my total support throughout. I will contact you during the 9 days to check how you are getting along and that you are on track to hit your goal. Please call or text if you need any help
- I will also add you to the Forever Living Facebook F.I.T. page for 24 hour support and advice as well as reading how other people are getting on with their plans.
- 30 mins of exercise per day is recommended, even if it's a walk.
The C-9 Cleanse is endorsed by doctors as a sensible and safe plan and is nutritionally sound as it was developed by a nutritionist.
The best part is, you will feel amazing, full of energy and life, your skin will glow and you will feelrenewed. You will also achieve a renewed attitude towards food and living a healthy lifestyle.
Shakes come in Vanilla or Chocolate flavour – All this for only £108.95+delivery
Also available are the FIT1 & FIT 2 programmes which continue your journey to a fitter healthier slimmer you!
Shop now at my Online shop: